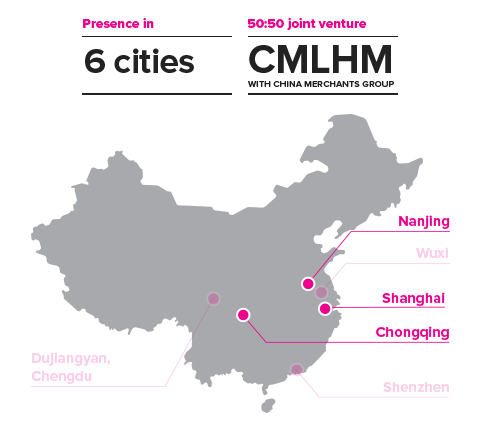 In December 2018, OUELH also entered into three management agreements to manage three medical facilities in Shanghai, Chongqing and Nanjing via its 50:50 joint venture company with China Merchants Group, namely China Merchants Lippo Hospital Management (Shenzhen) Limited ("CMLHM").
Under the management agreements, CMLHM will manage the medical facilities for one year commencing from 1 February 2019. The management agreements are extendable for a further term of one year on substantially the same terms and conditions at the option of CMLHM. CMLHM will be paid a management fee equivalent to 5% of the annual revenue of each medical facility.
1. Shanghai Changhang Hospital
Located in the heart of Shanghai's prestigious Lujiazui business and financial area of Pudong New District, Shanghai Changhang Hospital is a 204-bed Grade II hospital, occupying a land area of approximately 11,000 square metres.
2. Chongqing Changhang Hospital
Chongqing Changhang Hospital is located in Yuzhong District, the centre of Chongqing's administration, commerce, finance, information, culture, basic education and medical service. It is a Grade II hospital with 219 beds on a land area of approximately 13,750 square metres.
3. Nanjing Youyun Hospital
Less than one kilometre away from the YangTze River, Nanjing Youyun Hospital is a Grade I hospital with a gross floor area of approximately 2,015 square metres.
It is centrally located in Gulou District, close to several higher education and government institutions in Nanjing. Nanjing is the capital of the Jiangsu province, which ranks as China's top province in terms of Gross Domestic Product per capita1.
Notes:
According to National Bureau of Statistics, China